Releases
WADA publishes 2020 Annual Report under the theme 'Partnering to Deliver Clean Sport in a New Era'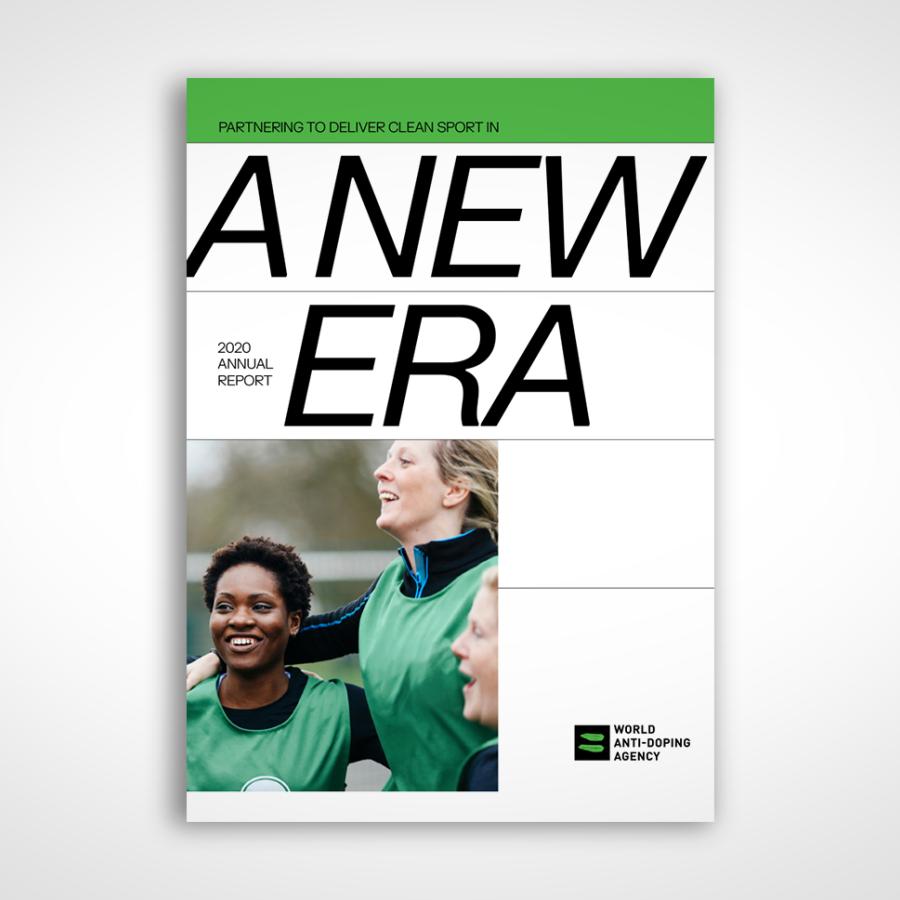 Today, the World Anti-Doping Agency (WADA) published its 2020 Annual Report, which outlines the Agency's activities in 2020 that contributed to a strengthened WADA and global anti-doping system. Under the title 'Partnering to Deliver Clean Sport in a New Era', the Annual Report is an important element of WADA's ongoing commitment to accountability and transparency.
As with most aspects of life, sport was hit hard by COVID-19 in 2020. As nations went into lockdown, most events were postponed or cancelled as public health and safety became everyone's first priority, including WADA's. The Agency adapted to this new reality and, along with the rest of the global anti-doping community, worked hard to maintain the integrity of the anti-doping system. While testing was significantly reduced in April and May of 2020, Anti-Doping Organizations (ADOs) around the world worked hard to restore activity to normal levels by the end of the year.
In their joint message, WADA President Witold Bańka and Director General Olivier Niggli said: "In this special environment, it is important to recognize the efforts of the global anti-doping community in 2020 that pulled together to ensure the integrity of the global anti-doping system. It was a truly monumental effort. We took the opportunity to further stimulate innovation together, for example by further exploring new sample collection and analytical techniques such as dried blood spot analysis, an exciting initiative that will be rolled out for routine use at the 2022 Beijing Olympic and Paralympic Games.
"Perhaps the most far-reaching work undertaken during 2020 was the preparation for the implementation of the 2021 World Anti-Doping Code, which was approved in November 2019 following a two-year consultation process. At every stage, we have provided practical, educational and informational support to Anti-Doping Organizations in their efforts to align their rules and programs with the revised Code and International Standards via the Code Implementation Support Program."
Another achievement came with implementation throughout 2020 of wide-ranging reforms to WADA's governance model. Of the 70 reform recommendations made by a WADA Governance Reforms Working Group in November 2018, the vast majority have been fully implemented. To continue that work, in November 2020, WADA's Executive Committee (ExCo) created a new Working Group on the Review of WADA Governance Reforms to monitor the effect of the reforms to date and to propose additional reforms going forward. The Group will present a full report to WADA's Foundation Board at its next meeting on 25 November.
Also, in December 2020, the Court of Arbitration for Sport ruled in favor of WADA and declared the Russian Anti-Doping Agency non-compliant with the Code for a period of two years, after WADA revealed that some of the data its independent Intelligence and Investigations team retrieved from the Moscow Laboratory had been manipulated. While WADA was very disappointed that CAS did not agree with all of its proposed consequences, the decision did uphold the strong investigative and legal framework put in place by the Agency to underpin the anti-doping system.
"Much of our work in 2020 and today is being guided by our 2020-2024 Strategic Plan that was published in July 2020 and designed with athletes at the center. This Plan, which reflects the feedback of key stakeholders within the anti-doping ecosystem, acknowledges that WADA is completely different to what it was a few years ago. It also reflects a consensus that WADA must go further to build bridges and unite efforts to protect athletes and the integrity of sports globally. WADA is and will be looking for every opportunity to meaningfully engage with athletes and other stakeholders to enhance the global anti-doping system." 
You can read about all of this and more in the pages of the 2020 Annual Report.
In keeping with our sustainability efforts, the Annual Report is being published only online.