Releases
WADA President proposes closer collaboration with national lotteries to protect the integrity of sport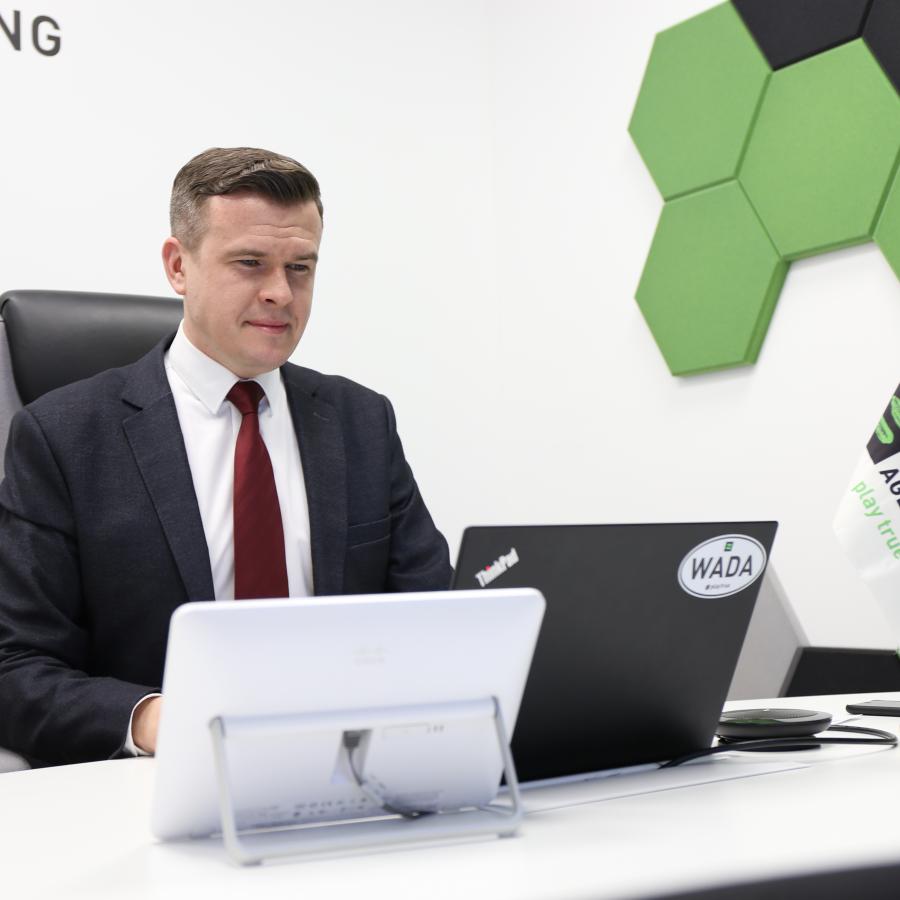 With a view to reinforcing the fight against doping in sport, the President of the World Anti-Doping Agency (WADA), Witold Bańka, has proposed forging a closer relationship between WADA, national lottery organizations and the well-regulated sectors of the sports betting industry in order to further protect the integrity of sport around the world.
Speaking today to European Lotteries and the World Lottery Association on the occasion of their virtual 2021 Sport Betting Webinar, Mr. Bańka highlighted successful partnership and intelligence-sharing agreements that WADA has previously signed with a range of other organizations, such as in the fields of law enforcement, scientific research and the pharmaceutical industry.
WADA's President said: "It is my belief that the twin threats to sport's integrity today are doping and corruption. Just as the reputation and image of many sports has been damaged by doping, the same is true for betting scandals, spot fixing and match manipulation. It is also my belief that WADA must always be ready to learn from others who may have expertise when it comes to protecting the integrity of sports. I am equally sure that elements of WADA's experience over the past 22 years could be applied to lotteries and legal sports betting in a way that can make those businesses even more secure.
"It would be naïve to think that there is no cross-over between the supply and sale of performance-enhancing drugs and the corruption of sports in other ways, too. Perhaps it is time to sign a memorandum of understanding between WADA, European Lotteries, the World Lottery Association and those well-regulated sports betting organizations in order to share intelligence and expertise for the overall good of sport and for providing a level playing field for athletes that is free of manipulation.
"So let us explore the opportunities we have. Let us join forces. And let us work a little more closely together so that we can keep prohibited substances and methods and corruption out of sport."
Invited as the conference's key-note speaker, Mr. Bańka gave an overview of the global anti-doping program and WADA's development since its creation in 1999, including its 2020-2024 Strategic Plan.
He added: "WADA will continue to grow and evolve. That is what I wanted from WADA when I ran the 400m for Poland. And that is what I am determined to deliver today as its President. Along with our Vice-President, double Olympic gold-medalist short-track speed-skater Yang Yang from China, there is a fresh, athlete-centered approach at WADA, and we are determined to act in the best interests of sport's precious integrity.
"Day in, day out, WADA will continue to collaborate with athletes and all our partners worldwide to strengthen anti-doping. To do so, we need the support of everyone who sees sport as I do – as a beacon of hope in a cynical world; a way to bring nations together in a spirit of friendly and respectful rivalry; a health-enhancing pursuit that brings pleasure and entertainment to billions of people. We are confident that with the support of all our clean sport partners, we will succeed in our unique and important mission for doping-free sport."
About WADA
Formed in 1999, WADA is an international independent agency composed and funded equally by the Sports Movement and Governments of the world. As the global regulatory body, WADA's primary role is to develop, harmonize and coordinate anti-doping rules and policies across all sports and countries. Its key activities include: ensuring and monitoring effective implementation of the World Anti-Doping Code and its related International Standards; scientific and social science research; education; intelligence and investigations; and, building anti-doping capacity with anti-doping organizations worldwide.
About European Lotteries
The European State Lotteries and Toto Association, generally referred to as 'European Lotteries' (EL), is the European umbrella organization of national lotteries operating games of chance, including sports betting, for the public benefit in more than 40 European countries – with around 50 Members in all European Union Member States and a total of more than 70 members. EL is the European lottery and gambling sector's largest and most representative organization.
About World Lottery Association
The World Lottery Association (WLA) is an international member-based association of state-controlled lottery, licensed sports betting operators, and suppliers to the global gaming industry. The WLA acts as an open forum for its members, promoting their collective interests and the vital role that state lotteries play in raising funds for good causes.