Releases
WADA President pledges support for Association of National Olympic Committees of Africa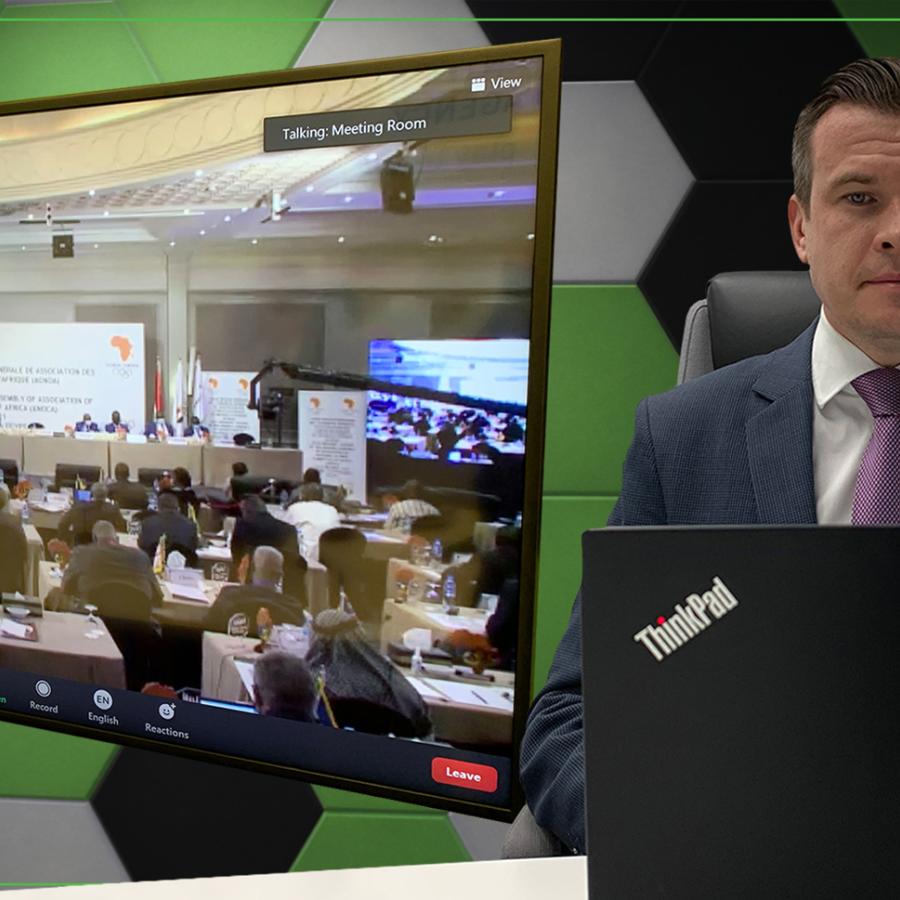 World Anti-Doping Agency (WADA) President Witold Bańka addressed the General Assembly of the Association of National Olympic Committees of Africa (ANOCA) on Monday (24 May) and highlighted the need to strengthen the network of National Anti-Doping Organizations throughout the continent. He acknowledged the important work being carried out by National Olympic Committees (NOCs) in the protection of clean sport and pledged WADA's ongoing collaboration and support.
Speaking to the members by video conference, Mr. Bańka said: "I want to thank you for your ongoing anti-doping work in Africa. WADA is here to support your efforts to further enhance sport and anti-doping activities in this region. It is an honor for me to lead WADA as it fulfils its mission to lead a collaborative worldwide movement for doping-free sport.
"I am well aware that many African countries have not established independent National Anti-Doping Organizations (NADOs), and that many National Olympic Committees (NOCs) still act as de-facto NADOs in their countries. I am also aware of the challenges that this situation brings about. It is therefore extremely important that the establishment of NADOs be part of the discussions between the Sports Movement and the Ministries of Sport of the various Governments to ensure that national programs are independent and sustainable. From our side, we remain committed to supporting such efforts and, through our Africa Office, we will continue lobbying African public authorities in this regard.
"Similarly, more than 40 African countries belong to one of the region's five Regional Anti-Doping Organizations (RADOs). WADA helped establish these organizations to ensure that countries unable to support a robust national anti-doping program can still access assistance to ensure they comply with the World Anti-Doping Code. We remain committed to support the RADOs and call upon the NOCs that benefit from their services to do whatever is needed to support them as well."
In the aftermath of WADA's Executive Committee and Foundation Board meetings last week, Mr. Bańka took the opportunity to update ANOCA on a variety of topics regarding anti-doping, including: COVID-19 and how WADA and the anti-doping community are striving to minimize its impact on the global anti-doping system, particularly in the lead-up to the Olympic and Paralympic Games in Tokyo; WADA's ongoing governance reforms; and the effort to secure additional funding for anti-doping. He also highlighted the need to empower athletes vis-à-vis anti-doping, a WADA priority that is particularly close to his heart as a former 400m sprinter at the international level for Poland.
The President said: "As a former athlete, I understand the importance of listening to the views and hearing the concerns of athletes worldwide and benefitting from them to enhance and advance the anti-doping mission. Since assuming my role, I have met with hundreds of athletes and their representatives and that will continue throughout my Presidency. This approach is part of WADA's overall commitment to being more athlete-centered, as prioritized within our 2020-2024 Strategic Plan."
Mr. Bańka pointed out that the African Union had initiated an annual Anti-Doping Think Tank Forum where regional stakeholders can meet to discuss how Africa can better respond to questions related to anti-doping.
"I am aware that ANOCA takes part in these discussions, which have helped to deliver very strong recommendations over the years. I would kindly ask you to ensure that these recommendations are followed up and implemented," he said.