Releases
WADA launches 'DCO Central' – a paperless solution for secure and fast collection of doping control data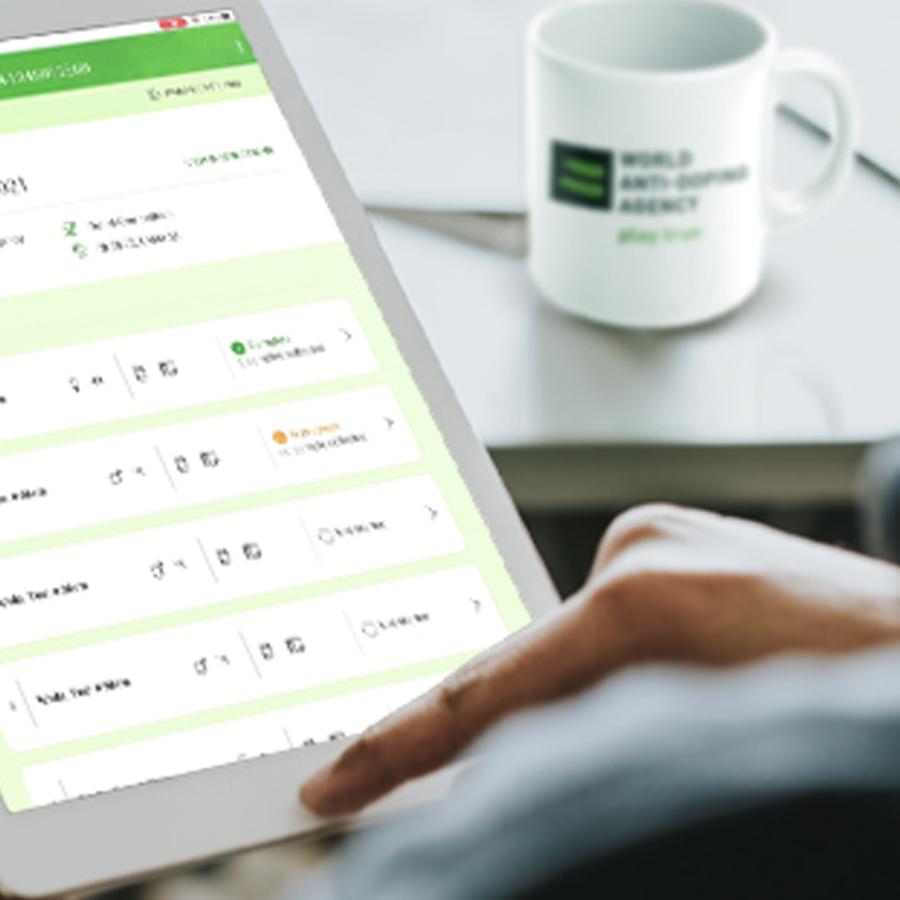 The World Anti-Doping Agency (WADA) is pleased to launch 'DCO Central', its new doping control sample collection app for tablets that is now available at no cost for download and use from the Apple Store and Google Play. 'DCO Central' provides Doping Control Officers (DCOs) from Anti-Doping Organizations (ADOs) and Sample Collection Agencies (SCAs) with an online and offline solution for secure and fast data collection as part of doping control sample collection, which is now entirely paperless.
'DCO Central' is the third important module that has been released as part of WADA's Anti-Doping Administration and Management System (ADAMS) 'Next Gen' project(1) and follows the Agency's successful deployment of 'Athlete Central' in 2019 and its 'Testing Center' in early 2020.  As was the case with 'Athlete Central' and the 'Testing Center', prior to releasing 'DCO Central', it was tested with stakeholders. In this case, a number of ADOs were introduced to the app through virtual induction sessions and were equipped to test it among staff and DCOs.
WADA Director General Olivier Niggli said: "WADA is pleased to launch 'DCO Central'. This new app provides Anti-Doping Organizations and Sample Collection Agencies with a free solution for secure and fast doping control data collection. It is also fully aligned with a key initiative of WADA's 2020-2024 Strategic Plan to ensure that the Agency's digital tools and user experience are intuitive, modern, functional and accessible. We are determined to build an easier anti-doping journey for athletes and others within the system; and, 'DCO Central' is one more step in that direction."
"ADAMS has undergone a range of improvements in recent years, including introduction of 'Athlete Central' and the 'Testing Center', which were developed in consultation with athletes and other stakeholders worldwide. These new modules have received very positive response. Once again, we are grateful for the comments that we received from Anti-Doping Organizations and Doping Control Officers during the development of 'DCO Central'. We believe this feedback has enabled us to deliver a high-quality app to the global anti-doping community."
UK Anti-Doping (UKAD) Deputy Director of Operations (Testing), Hamish Coffey said, "As part of UKAD's move towards implementing a paperless doping control process, we have been conducting in-house testing on numerous paperless systems, including WADA's 'DCO Central'. We welcome the launch of WADA's 'DCO Central' as our experience of testing it has been very positive. The app is user-friendly, simple and intuitive, and integrates well with ADAMS. The move to a paperless doping control process is important, offering numerous benefits. From an improved athlete experience to efficiencies in process and procedure, to a reduced environmental impact comparative to a paper-based system."
'DCO Central' has real-time access to athletes' whereabouts information to reduce unsuccessful test attempts. It is also intended to enhance athlete confidence that their rights are protected adequately thanks to multi-lingual notification and sample collection. Athletes are guided through testing (and their associated rights and responsibilities) by the app in the language of their choosing, even when the DCO is using a different language.
Other features of 'DCO Central' include:
A simplified Doping Control Form, with significant information being pre-populated from ADAMS;

Automated ADAMS synching, delivering testing instructions to sample collection personnel and doping control data back into ADAMS in real time;

Reporting features, such as the ability to immediately notify the relevant ADO of an unsuccessful testing attempt that may constitute a missed test, thereby improving the speed and efficiency of results management;

Full single sign-on and secure log-on features to maintain the integrity of athlete data imported onto the tablet;

Online and offline functionality to support testing at locations without reliable wi-fi or network coverage.
WADA encourages ADOs and SCAs interested in adopting 'DCO Central' to contact the Agency at dcocentral@wada-ama.org for detailed help in getting started with the app. The ADAMS team also welcomes additional user feedback to further improve this new app over time.
(1)About ADAMS
ADAMS is a secure and cost-free, web-based system that centralizes doping control-related information such as athlete whereabouts, testing history, laboratory results, the Athlete Biological Passport, Therapeutic Use Exemptions and information on Anti-Doping Rule Violations.
In 2017, significant upgrades to ADAMS' underlying infrastructure laid the foundation for the complete rebuild of ADAMS with the goal of serving all athletes and anti-doping stakeholders better going forward. Referred to as 'Next Gen' ADAMS, the rebuild prioritizes mobility of ADAMS use, enhanced connectivity, reliability, and performance, as well as general usability. All of ADAMS' new features are also designed with privacy, information security, and transparency for end users as a priority.