Releases
WADA issues Anti-Doping Rule Violations Report for 2020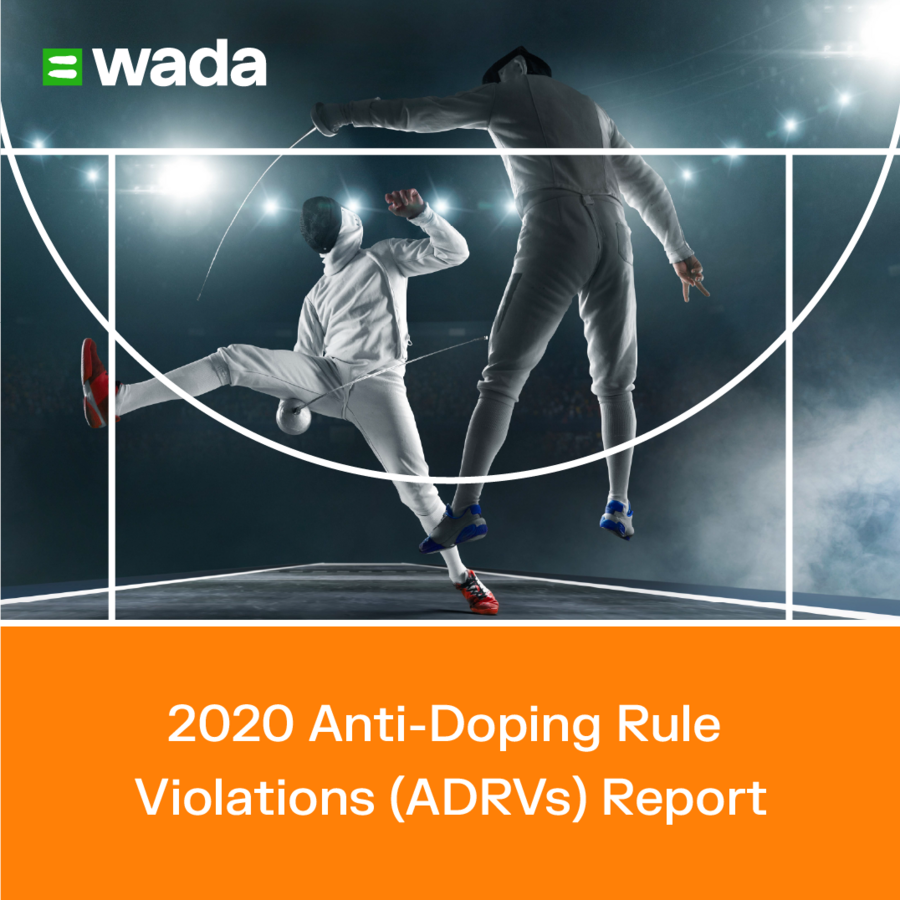 The Report highlights 935 confirmed Anti-Doping Rule Violations in 2020 (25 of which are related to Athlete Support Personnel)

The ADRVs involve individuals from 91 nations and across 67 sports

A total of 672 ADRVs came from Adverse Analytical Findings and 263 from non-analytical, evidence-based intelligence

The proportion of ADRVs confirmed to samples collected remained stable as compared to 2019 despite the drop in the number of samples collected in 2020 as a result of COVID-19
The World Anti-Doping Agency (WADA) today publishes its eighth annual Anti-Doping Rule Violations (ADRVs) Report, which is the official set of such figures under the World Anti-Doping Code. As with previous years, the Report is available in a PDF version as well as a dynamic, Excel version that illustrates the ADRV results in an interactive fashion.
The Report illustrates doping offences committed in global sport during 2020. It includes all decisions received by WADA's Legal Affairs Department up to 10 November 2022. It highlights that there was a total of 935 ADRVs recorded in 2020. This represents a decrease relative to the 2019 figure of 1,914. It should be noted that with very few sporting events being held due the COVID-19 pandemic, the number of samples collected in 2020 was significantly reduced, which in turn impacted the total number of ADRVs recorded. The proportion of ADRVs to samples collected remained stable.
672 of the ADRVs came out of Adverse Analytical Findings (AAFs), commonly known as 'positive' results. The remainder were derived from investigations and evidence-based intelligence into 263 violations committed by 238 athletes and 25 Athlete Support Personnel.
WADA Director General Olivier Niggli said: "Testing is an integral tool in the protection of clean sport. Understandably, there were decreases in testing worldwide as a result of the COVID-19 pandemic. Nevertheless, the percentage of samples confirmed as ADRVs remained stable compared to 2019. This annual Anti-Doping Rule Violations Report gives us a good insight into the outcomes of the testing programs conducted by Anti-Doping Organizations worldwide, particularly when read in combination with WADA's 2020 Testing Figures report that was published in December 2021.
"The 2020 Anti-Doping Rule Violations report notably highlights the successes of WADA's Intelligence & Investigations (I&I) Department and similar teams within some Anti-Doping Organizations. This was largely due to WADA's confidential source platform 'Speak Up!' and those whistleblowers who had the courage to come forward with evidence of wrongdoing.
"Anti-doping is not all about testing. Along with WADA I&I, the continued development of a comprehensive values-based education program, the Athlete Biological Passport and advancements made in scientific research and data analysis will continue to play vital roles in the protection of clean sport."  
The 2020 ADRV Report contains all ADRV decisions reported to WADA by Anti-Doping Organizations (ADOs). These decisions include those from AAFs reported in samples collected by ADOs in 2020 as well as from non-analytical ADRV decisions rendered in 2020.
As with previous years, the beginning of the report comprises explanations and definitions, an introduction and an executive summary highlighting key data. The first and second sections present the results management outcomes (including ADRVs) of all AAFs detected by WADA-accredited laboratories for samples collected in 2020 from athletes in- and out-of-competition. They are presented by sport category (Section 1) and testing authority category (Section 2).
Section 3 includes ADRVs that resulted from non-analytical findings committed by athletes (presented by sport and nationality) and by athlete support personnel (presented by nationality).
Section 4 indicates the total number of ADRVs in 2020, which includes AAFs that resulted in an ADRV plus all non-analytical ADRVs. It presents the data by sport and nationality and is further broken down into type of samples (urine or blood), type of test (in- or out-of-competition) and athlete sex classification.
To help with the interpretation of the 2020 Report, we provide a comprehensive Question and Answer document.