Story
A day in the life of a Doping Control Officer at Beijing's Olympic Winter Games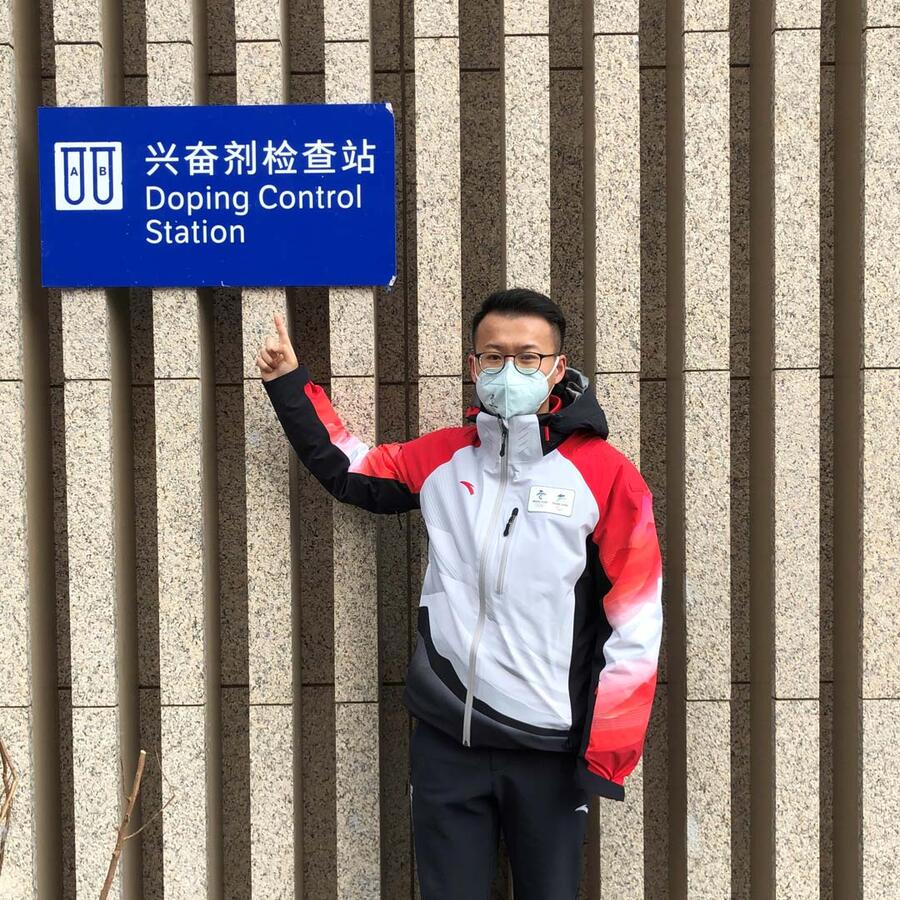 At the Olympic Winter Games Beijing 2022, which come to a close today, hundreds of local and international experts and volunteers were deployed to implement the anti-doping program for the Games, which was led by the International Testing Agency (ITA) on behalf of the International Olympic Committee (IOC). The program began with out-of-competition testing on 27 January, the day the Olympic Village officially opened, and continued throughout the 17 days of competition. Over 3,000 samples were collected overall, with about half taken in-competition and half out-of-competition.
Among the anti-doping staff on the ground in Beijing were some 150 Chinese and international Doping Control Officers (DCOs) tasked with overseeing the testing of the athletes at the competition venues.
One of them, Vice Doping Control Station Manager at the Olympic Village, Zhou Weicheng, recently provided some insight into what it is actually like to be a DCO at an Olympic Games.
MR. HONEST
Affectionately known to colleagues as 'Mr. Honest' [his name, Weicheng, means "Be Honest" in Mandarin], the 30-year-old native of Xiangyang, Hubei Province says he first felt the transformative power of sport at a young age and was soon on his way to making a career in the field.
"When I was a child," he said, "the love of sport ran through my veins. I believe in the power of sport in making a better world and helping us become better versions of ourselves."
After obtaining a master's degree in Sport Management from the University of Edinburgh in Scotland, Zhou began working for the China Anti-Doping Agency (CHINADA), where he has been employed since 2016.
Zhou performed a number of roles within CHINADA before moving into testing, initially intrigued by athlete's rights and responsibilities during the testing procedure.
"I thought if I didn't know the real-world doping control, how could I possibly tell the athletes what it's like to be in a doping control and what athletes must do to fulfil their responsibilities and protect their rights?" he says. "Therefore, I attended a DCO training course, passed the examination, and finally became a DCO."
Like all DCOs at Beijing 2022, Zhou also completed the ITA's international DCO (IDCO) Training and Certification Program to be certified as an IDCO in the lead-up to the Games.
As Vice Doping Control Station Manager at the Beijing Olympic Village, Zhou is responsible for managing a doping control team of 25 DCOs (22 local and three from other countries) and 52 Chaperones. He is also responsible for ensuring that the doping control station is fully compliant with the World Anti-Doping Code (Code), its related International Standards, and the Beijing 2022 Anti-Doping Rules.
A DAY IN THE LIFE
With these responsibilities, it may not come as a surprise to learn that Zhou has had limited hours of sleep during the Games.
"The Beijing Olympic Village doping control station is undoubtedly one of the most demanding stations of all the venues," he says. WADA President Witold Bańka once said 'that anti-doping never sleeps'.  This truly reflects our life at the Beijing Olympic Village."
To emphasize his point, Zhou summarized what a typical day looked like for DCOs at the Beijing Olympic Village Doping Control Station:
03:30 –

Morning shift - wake

up.


 

04:00 – Leave hotel for Olympic Village to prepare for opening of doping control station.


 

04:30 – Daily 10-minute meeting to summarize key issues exposed during previous day's work so any issues do not occur again in subsequent testing sessions.


 

04:40-06:00

–

Go through testing plan once again, focusing on any changes made and checking athletes' whereabouts.


 

06:00-22:00 – Notify and test athletes. Doping control station gets busy. Oversee status of waiting room and processing rooms. Ensure pace of notification and sample collection is aligned and coordinated.
13:00-14:00

–

Shifts change.
14:00

–

First sample transportation.
Usually receive the next day's test mission from the ITA around 14:00. Check athletes' whereabouts information together with Chaperone Coordinator. Determine athletes' training and competition schedule to finalize tentative notification time to conduct 'no advance notification' most efficiently without interfering athletes' routine.
22:00 –

Second sample transportation.
23:00

-24

:00 – Depending on actual completion time of testing work, station closes. Take shuttle bus back to hotel.
R-E-S-P-E-C-T
When asked about the importance of communication when dealing with athletes being tested, Zhou cites respect, empathy and professionalism as the keys to successful interaction.
"Empathy is important," he says. "Let's say you are an athlete who is notified for a doping control. After a few minutes you are taken to an unfamiliar place and requested to pee in front of a stranger. How awkward is that, especially if it's your first doping test? To help athletes fulfil their responsibilities – while at the same time reducing their discomfort – a DCO should have empathy towards how they feel."
In such situations, Zhou suggests "speaking less like a robot and more like a human," while also extending a warm welcome, initiating small talk such as congratulating the athlete on their performance, and explaining the doping control procedure.
On the flip side, interacting with uncooperative athletes requires that DCOs remain highly professional in their attitude.
"Some athletes might have had a tough day such as losing a match, not being in a great mood, or they just simply do not want to go through doping control," Zhou says. "Potential yelling, scolding, threatening behavior can possibly constitute an anti-doping rule violation, so a DCO must remain professional and inform the athlete that such behavior could have negative consequences and persuade them to take the test."
A NOBLE QUEST
Despite the long days, heavy workload, and sometimes trying circumstances, Zhou says he would readily encourage anyone thinking of becoming a DCO to jump at the opportunity, calling it a 'noble quest.'
"I would definitely recommend this role to those who really love sports and who really appreciate the spirit of sport," he says. "Anti-doping is a noble quest and joining this quest to become a DCO will give you an opportunity to level the playing field and safeguard clean sport. Doing a righteous job will also help you grow as a righteous person. You will feel a sense of pride when standing firmly against the cheaters and helping clean athletes win clean medals."