Releases
Clean Sport community expresses support for 2021 World Anti-Doping Code on first day of WADA's fifth World Conference on Doping in Sport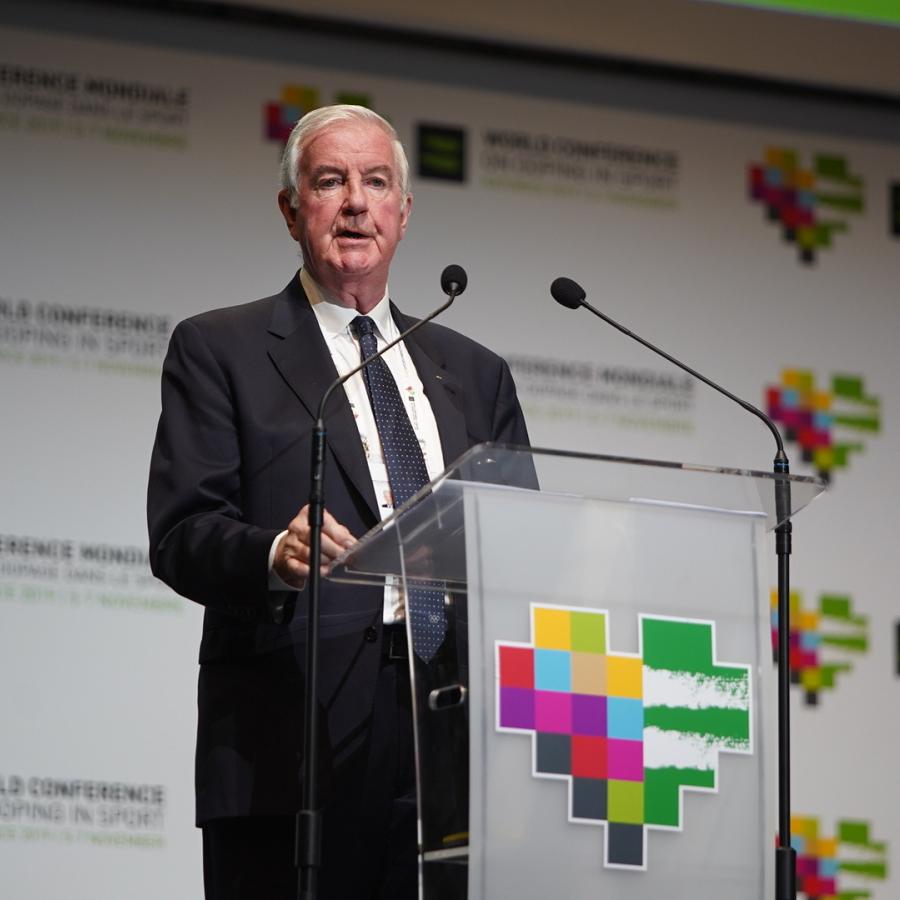 Strong recognition from stakeholders marking 20 years of achievements, challenges and the need to further strengthen WADA and the global anti-doping program for the benefit of clean athletes

International Olympic Committee pledges additional contribution to anti-doping efforts of up to USD 10 million
Today, the World Anti-Doping Agency's (WADA's) fifth World Conference on Doping in Sport opened in Katowice, Poland; which, from 5-7 November, is taking stock of the evolution of Clean Sport and engaging in high-level discussion and debate about the global anti-doping program.
Organized with the generous support of the Ministry of Sport and Tourism of Poland, the Conference has brought together over 1,500 representatives from the sport movement, public authorities and anti-doping organizations, along with athletes, other anti-doping experts and members of the media.
Coinciding with WADA's 20th anniversary, the World Conference opened with a speech by WADA President, Sir Craig Reedie, which was followed by speeches from the President of Poland, Andrzej Duda; the President of the International Olympic Committee (IOC), Thomas Bach; the Minister of Sport and Tourism and incoming WADA President, Witold Bańka; the Chair of WADA's 'One Voice' group of public authorities, Marcos Diaz; the Assistant Director-General for Social and Human Sciences at UNESCO, Nada Al-Nashif; and the Mayor of Katowice, Marcin Krupa.
The day focused on the 2021 World Anti-Doping Code (Code), which is set to be approved by WADA's Foundation Board on 7 November and to enter into force on 1 January 2021. In December 2017, WADA initiated a very transparent revision process which consisted of three distinct consultation phases for the Code and two for the related International Standards. During this time, stakeholders had multiple opportunities to contribute and make recommendations on how to strengthen the global anti-doping rules.
WADA stakeholders had the opportunity to intervene publicly on the current status of anti-doping and on the revised Code during the afternoon sessions. During these sessions, more than 30 Conference delegates from various categories of stakeholders offered their views. Most praised the latest draft version of the revised Code, highlighting its benefits for both athletes and anti-doping organizations worldwide, while also suggesting ways of how the anti-doping system could be further enhanced. There was strong recognition for 20 years of achievement by WADA, of challenges, but also of the need to further strengthen the Agency and the global anti-doping program for the benefit of clean athletes. More stakeholder interventions will follow tomorrow.
During his address, WADA President Sir Craig Reedie said: "WADA is maintaining the Code as a living document that adapts to the changing anti-doping landscape to ensure it remains fit for purpose. This third Code review in the Agency's 20-year history has harnessed the practical experience of WADA and its stakeholders in order to strengthen the global harmonized fight against doping in sport.
"On 10 November, WADA will celebrate its 20th anniversary. It has been two decades of progress, improvement and, of course, plenty of complex challenges. It is remarkable to think of how far WADA and, by extension, the global anti-doping program has come. However, this is no time to be resting on our laurels as there will always be those who try to destabilize the anti-doping system. The key for WADA is to continue listening, learning and implementing ever more effective strategies and processes in collaboration with all our partners."
In his speech, the IOC President commended the Agency and Sir Craig for the strides made in the anti-doping system. He pledged an additional IOC contribution to anti-doping of up to USD 10 million. These funds, he explained, would include: USD 5 million to finance long-term (up to 10-year) storage of the thousands of samples collected by anti-doping organizations during the pre-Olympic Games testing periods for later re-analysis, bringing that process into line with samples collected during the Games themselves; USD 2.5 million towards WADA's science budget to build on the success of the ongoing research program, provided Governments of the world match that amount; and another USD 2.5 million to a joint program, with Governments, to further strengthen the successful work of WADA's Intelligence and Investigations Department.
Having made this announcement, Thomas Bach said: "I invite all of you here today to join hands so that together we can accomplish the mission of WADA and together we can send a strong signal from Katowice to the athletes of the world, and to the general public – a signal of determination, a signal of cooperation, a signal of credibility."
President Duda told the Conference: "Thanks to WADA's work, I think more and more young people are staying away from doping. We must do all we can to ensure they are guided by honesty and integrity, reaching their goals with a clear conscience, with their heads held high and so that they never have to be ashamed because of what they did."
The incoming WADA President, Witold Bańka, who is up for election by the Foundation Board (Board) on 7 November, spoke passionately about WADA and what clean sport means to him. "Sport is a beautiful idea that has the power to unite people no matter what their political views, religion, skin color or age. This idea must be protected. We have to prevent corrupting it. We must do everything we can to save this idea."
Minister Banka mentioned funding as being a key element of ensuring WADA continues to move forward with the anti-doping program. He said: "I call upon global sports leaders and those who represent Governments, as well as private companies, that if they want sport to be clean, they need to increase their financial support for the fight against doping in sport. WADA needs you and your support, just like you need WADA."
Picking up on some of the themes highlighted in his opening address, WADA's President participated in the morning panel session two, which reflected on the 20-year history of the Agency while exploring perspectives on the direction and objectives of the future of anti-doping. The panel also included Munashe Dangare (a field hockey player from Zimbabwe), WADA Vice-President Linda Helleland, past Presidents Richard Pound (1999-2007) and John Fahey (2008-2013), and incoming President and Vice-President, Witold Bańka and Yang Yang.
The third session of the day explored a vision of the anti-doping community for the future and featured Arly Velasquez (Paralympic skier from Mexico), Yaya Yamamoto (Japan Anti-Doping Agency), Franz Schwarzenbacher (Criminal Intelligence Service of Austria), Christine Mugera (Africa Zone V Regional Anti-Doping Organization), Dr Peter Van Eenoo (Laboratory Director at the University of Ghent, Belgium) and Brett Clothier (Athletics Integrity Unit).
As outlined in the Conference program, the Conference will wrap up on 7 November with the Code being presented for approval by WADA's Board and the International Standards being presented for endorsement by the Agency's Executive Committee.
On the same day, the Board will elect WADA's new President and Vice President. Minister Banka, who is also a former elite 400m runner is the candidate for President; and, China's double Olympic gold-medal winning short-track speed skater, Yang Yang, is the Vice-Presidential candidate. Once elected, they will assume their roles on 1 January 2020.