Story
WADA's Regional Offices – protecting clean sport around the world

In this latest edition of 'Spotlight', which aims to inform stakeholders of the daily activities being carried out around the globe by the World Anti-Doping Agency (WADA) team and its partners, we look at the critical work being carried out by the Agency's Regional Offices in Africa, Asia/Oceania, Europe and Latin America to assist, support and empower every stakeholder to do their bit in delivering clean sport.
WADA is headquartered in Montreal, Canada but that is certainly not where the Agency's work begins and ends. WADA has a full-time staff of 133 people from 50 countries around the globe, which includes front-line Regional Offices in Montevideo, Uruguay; Tokyo, Japan; Lausanne, Switzerland; and Cape Town, South Africa. These teams work hand in hand with the Montreal team to ensure that clean sport is protected and promoted all around the world.
The role of the Regional Offices is to engage and educate stakeholders, including athletes, in order to generate dialogue and encourage participation in clean sport activities from the highest authorities in the world down to the grassroots. Meeting people where they are, speaking their language and understanding the specific challenges they face are key elements to the ongoing success of these offices.
Covering some extremely diverse regions, each with its own peculiar set of challenges, the dedicated and innovative staff in these offices focus their efforts primarily on collaboration and the provision of advice and assistance. In particular, they:
Liaise with public authorities and regional sports organizations.

Support regional stakeholders in developing their anti-doping programs and reaching and maintaining compliance with the World Anti-Doping Code.

Support capacity-building through the 15 Regional Anti-Doping Organization (RADO) programs, involving 132 countries.

Assist with the implementation of education programs.

Establish and maintain cooperation agreements with government agencies, sporting bodies, pharmaceutical companies, laboratories and other influential groups to push the clean sport agenda.

Facilitate the collection of annual contributions to WADA's budget within each region.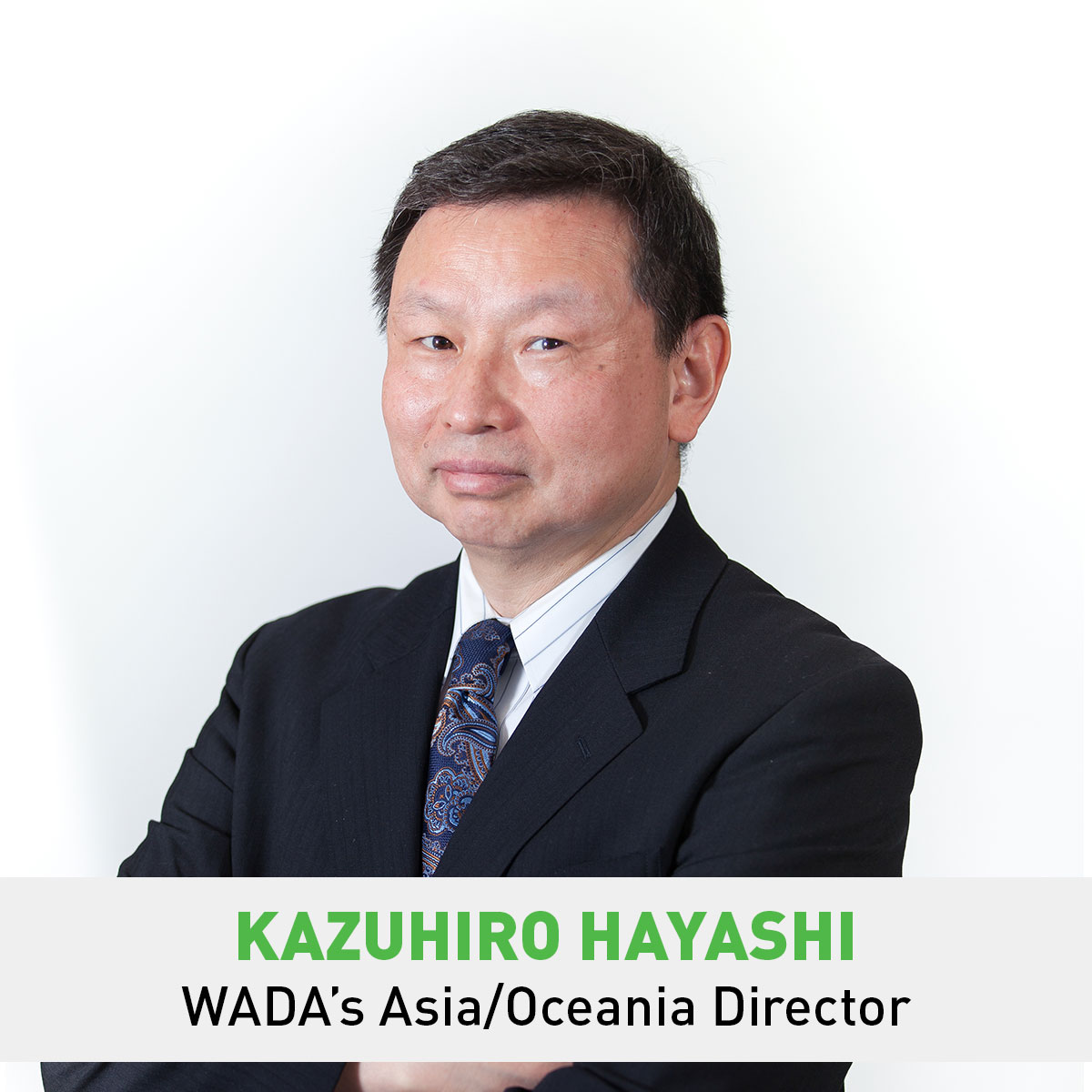 Kazuhiro Hayashi, WADA's Asia/Oceania Director, says: "When all is said and done, we are here so that athletes feel enabled and empowered to play true, ensuring their health and the integrity of sport are cherished and maintained."
Of course, that is easier said than done and there will always be hurdles to negotiate along the way.
Hayashi adds: "In the early days, our biggest challenge was generating interest in clean sport initiatives. Little by little, we have been able to change opinion. As the Asia/Oceania region becomes a more regular stage for major events, such as the Olympic and Paralympic Games and world championships of various International Federations (IFs), interest and concern for clean sport has become stronger. As a result, this has moved our work further up the agenda. Now we are proud that the Asia/Oceania region is very active in the fight against doping in sport."
One of the key roles of the offices is to tailor programs to suit the region, bearing in mind that everywhere is different.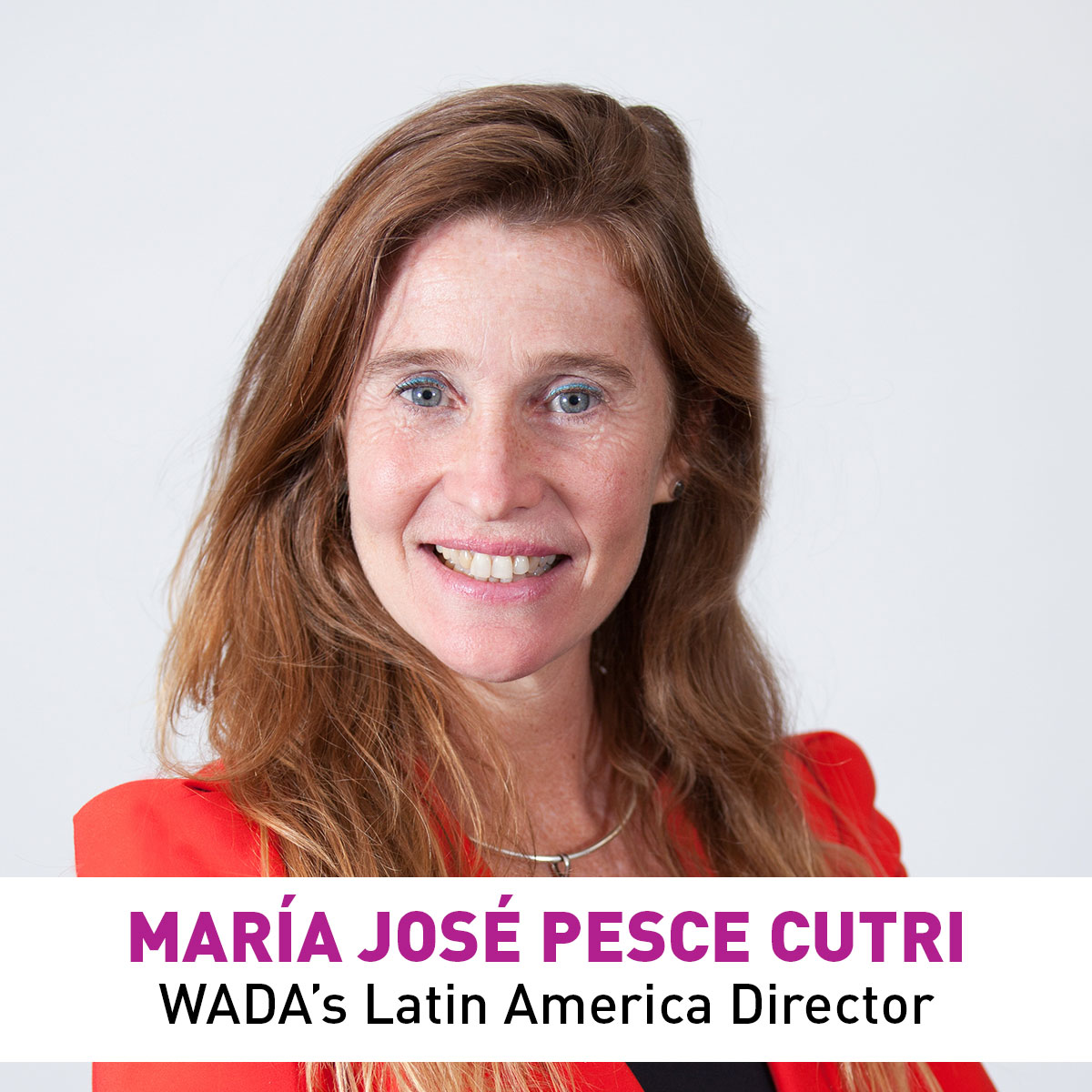 María José Pesce Cutri, WADA's Latin America Director, says: "It is our privilege to be the face of WADA in our part of the world. I work in a region that has many societal challenges, such as health, housing and education, but where the love of sport is everywhere. I am convinced that sport is a great tool to instill positive values in young people. We work with passionate people in the National Anti-Doping Organizations (NADOs) and RADOs who, with limited resources, put a lot of effort to develop better programs."
One of the most time-consuming and productive activities of the regional offices is engaging government officials, including Sports Ministers, as well as National Olympic Committee (NOC) representatives, national sports federations and NADOs. There are formal settings for these meetings, such as governmental assemblies, sessions of regional organizations and symposia organized by WADA or others, as well as more casual opportunities on the fringes of conferences, via webinars or even on social media groups. Ideas around best practice, capacity-building, funding or any other issue can be debated and agreed. This is how relationships are forged, trust is built, and good results achieved.
Pesce Cutri adds: "We have some ongoing initiatives yielding really good outcomes lately, such as our bilateral cooperation projects with NADOs, meaning some of the developing countries receive more focused support. We started this last year with Guatemala, Costa Rica, and Trinidad and Tobago. That has gone very well and this year we added Ecuador and Puerto Rico. It is great to see such excellent relationships being built between individual NADOs with the common goal of protecting sport."
Another region that faces significant challenges when it comes to resources is Africa, where sport and anti-doping are competing for funds with more fundamental needs, such as the provision of clean water and food, infrastructure and the security of people in conflict zones.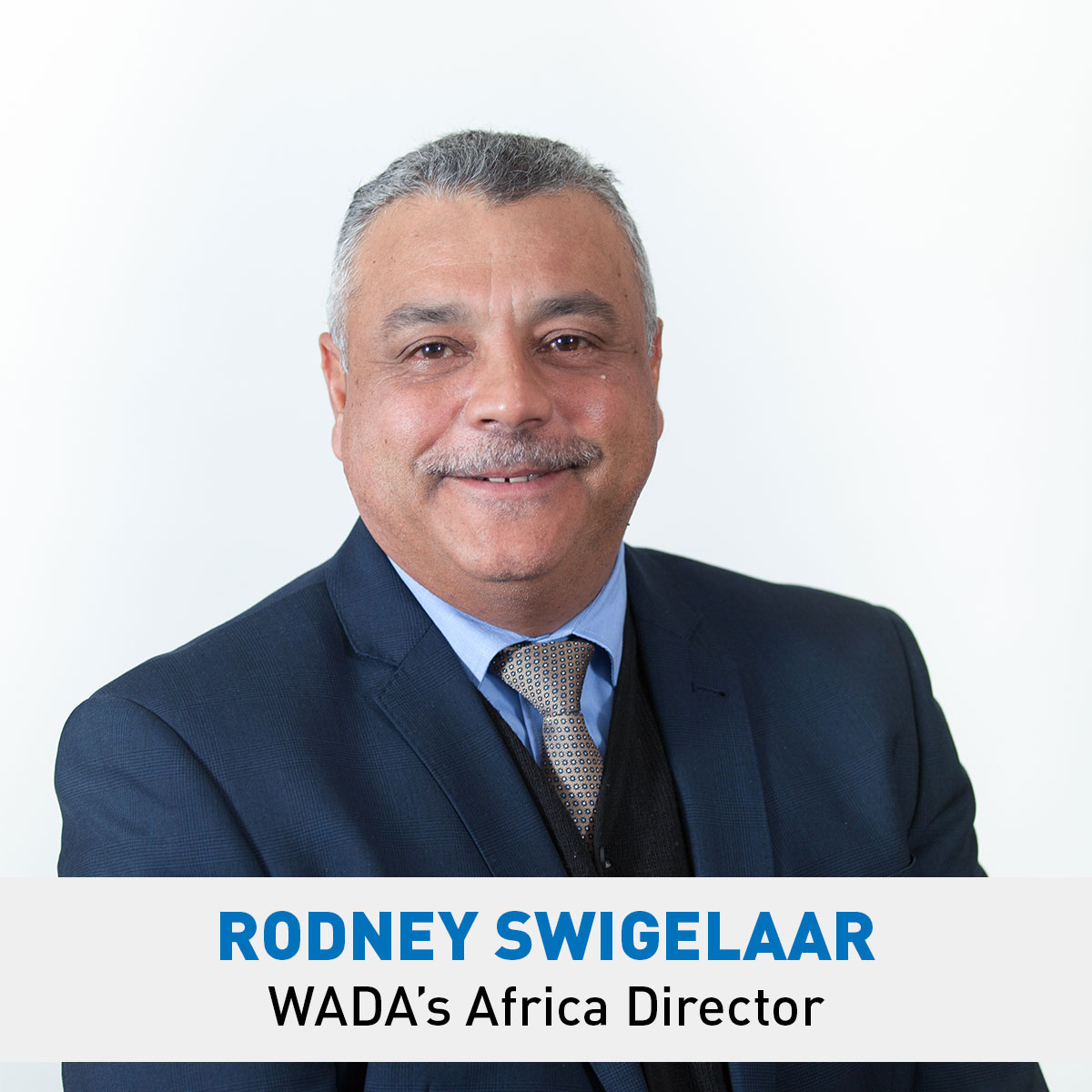 Rodney Swigelaar, WADA's Africa Director, says: "As an important sporting region, Africa must rise to the anti-doping challenge. United, it can continue to contribute to the global efforts in support of clean and fair sport. Athletes must be protected from making reckless or uninformed decisions that could spell the end of very promising careers.
"The role of all our stakeholders, those representing our governments and those at the helm of organizing and governing sport in Africa, must be to raise their voices in unison so that the integrity and health of athletes and sport carry a real value for people and nations. Through strategic partnerships and an increase in platforms where the region can discuss and deliberate anti-doping matters, we are slowly but surely finding regional solutions to Africa's response to the doping menace. Much more needs to be done, and much more commitment is required, but slowly the region is recognizing and acknowledging that anti-doping requires a collective and immediate response from all stakeholders."   
Based in Lausanne, Switzerland, which also is home to the International Olympic Committee (IOC) and many IFs, in particular, the European office is unique. Apart from fulfilling the functions of a regional office, it also serves as WADA's IF Relations Department, which also includes the IOC, the International Paralympic Committee as well as other Major Event Organizations and sporting umbrella organizations. Whether they are billion-dollar organizations with hundreds of staff or a federation with a single full-time administrator, the Europe office assists and advises them all. Within this context, a certain adaptability is required to discuss with each stakeholder the benefits of anti-doping in their world and to support them in the development of their anti-doping programs.
The European office is not only made of Government, NADO and IF relations but also features colleagues involved with science, intelligence and investigations, and the Anti-Doping Administration Management System, known as ADAMS, so it offers an integrated approach for stakeholders.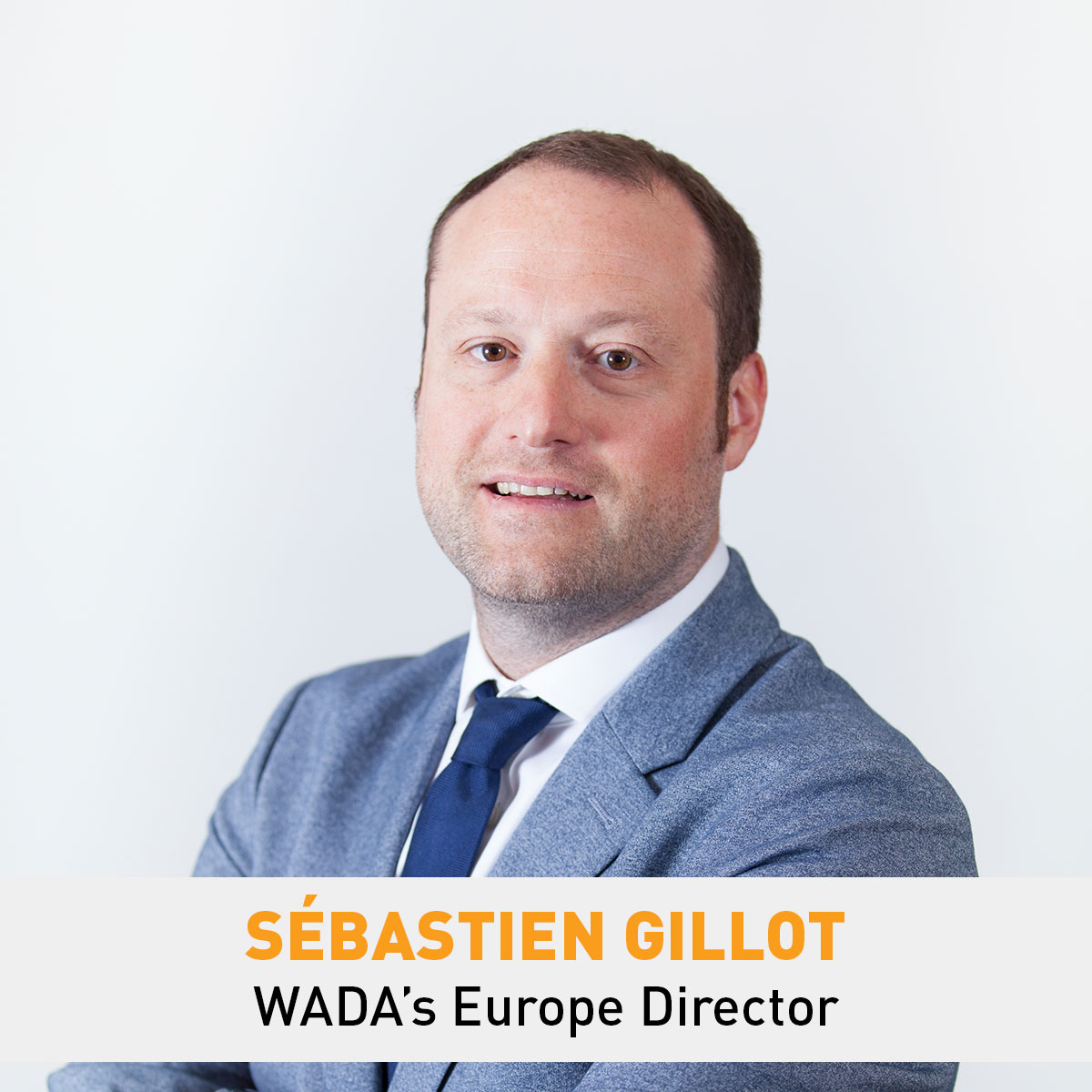 Sébastien Gillot, WADA's Europe Director, says: "In Europe, there is a real mix. We have some of the biggest NADOs and IFs in the world that often have to deal with tremendously complex situations, and we have some small countries or sports, with very limited resources, that are establishing basic programs from scratch. In the middle of that, and at all levels, WADA is there to support and offer guidance whatever the demands."
Effective communication comes with openness, transparency and trust. Through these four offices in different corners of the world, WADA is building strong relationships with its stakeholders based on direct relationships and the shared values of honesty, integrity and the love of sport.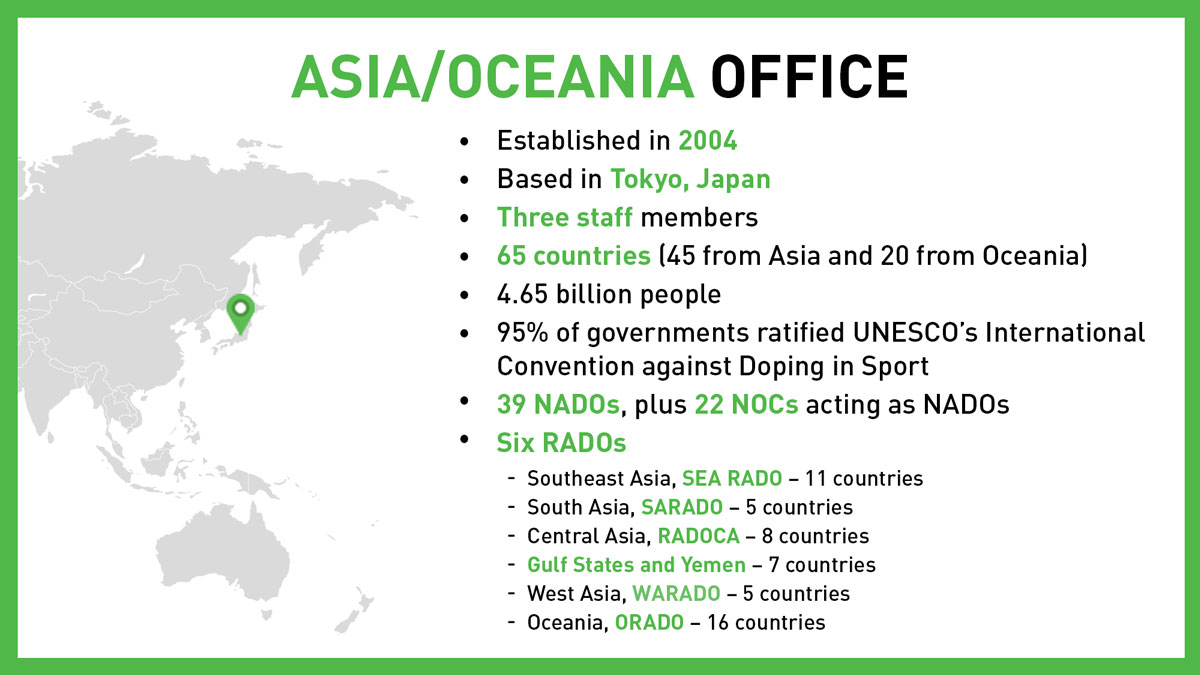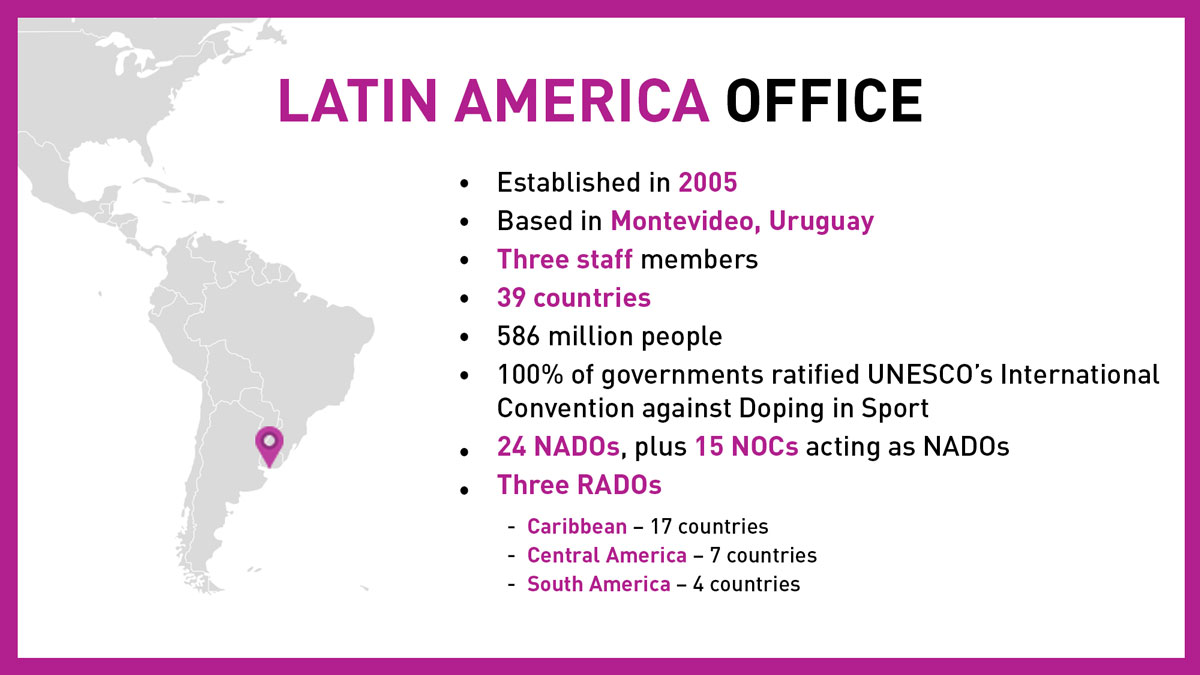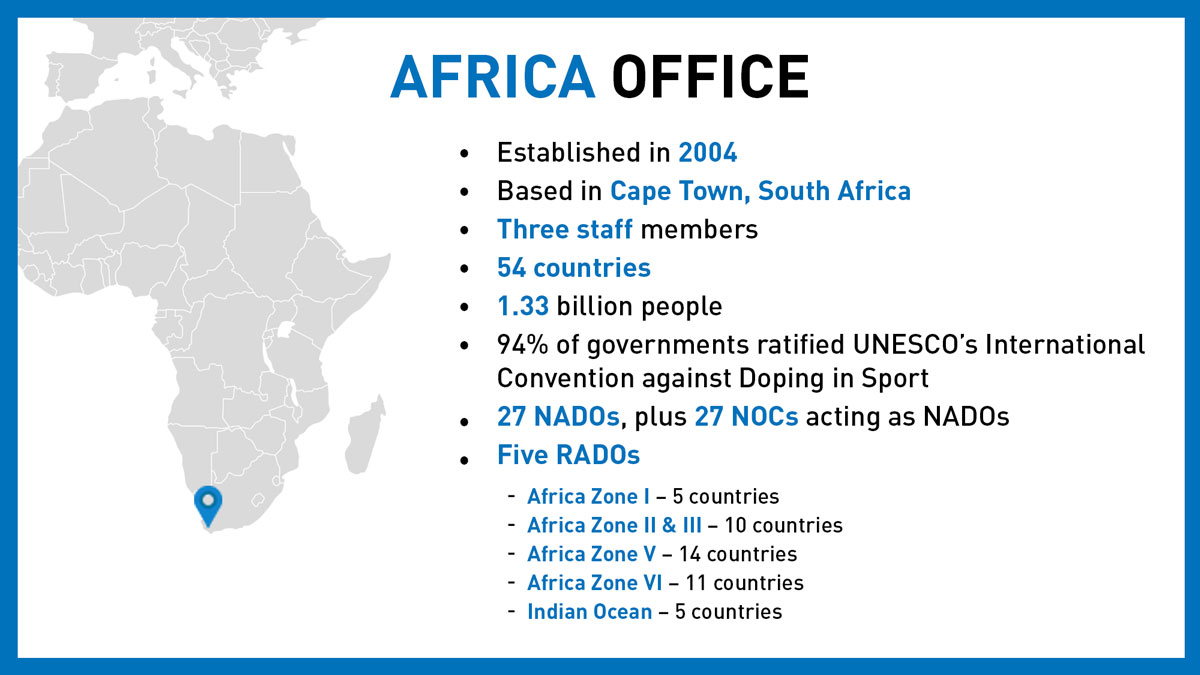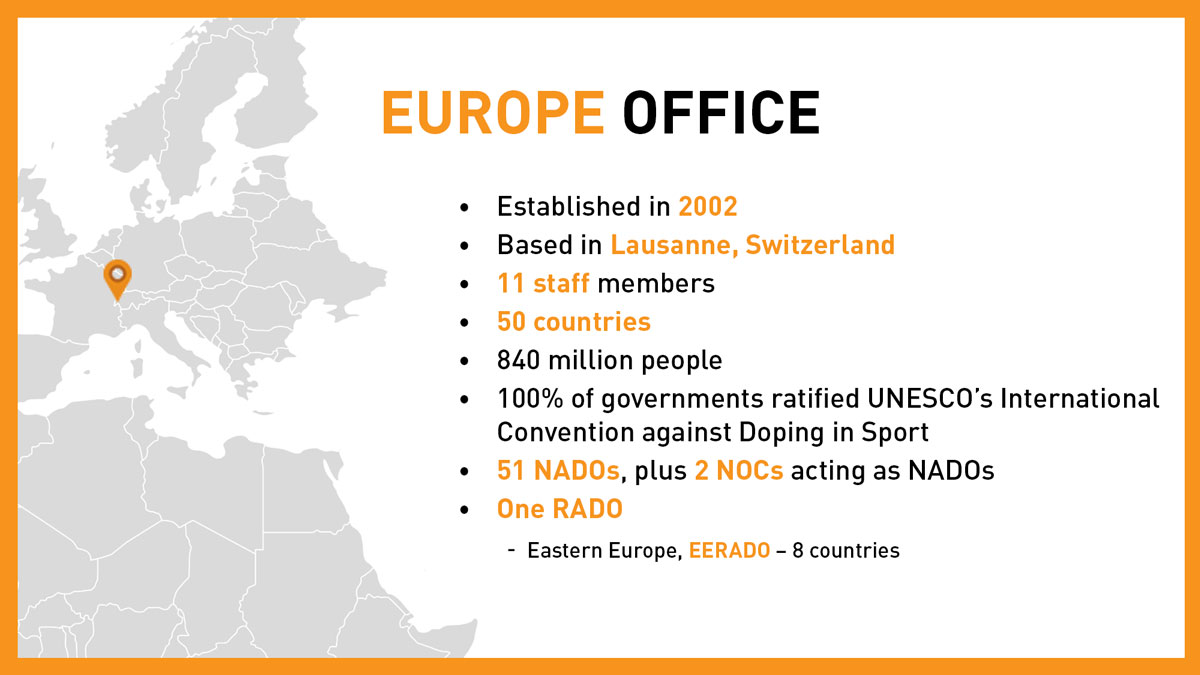 'Spotlight' previously focused on WADA's innovative anti-doping education and the Agency's compliance monitoring program.