Story
WADA Intelligence and Investigations – Helping whistleblowers to 'Speak Up!'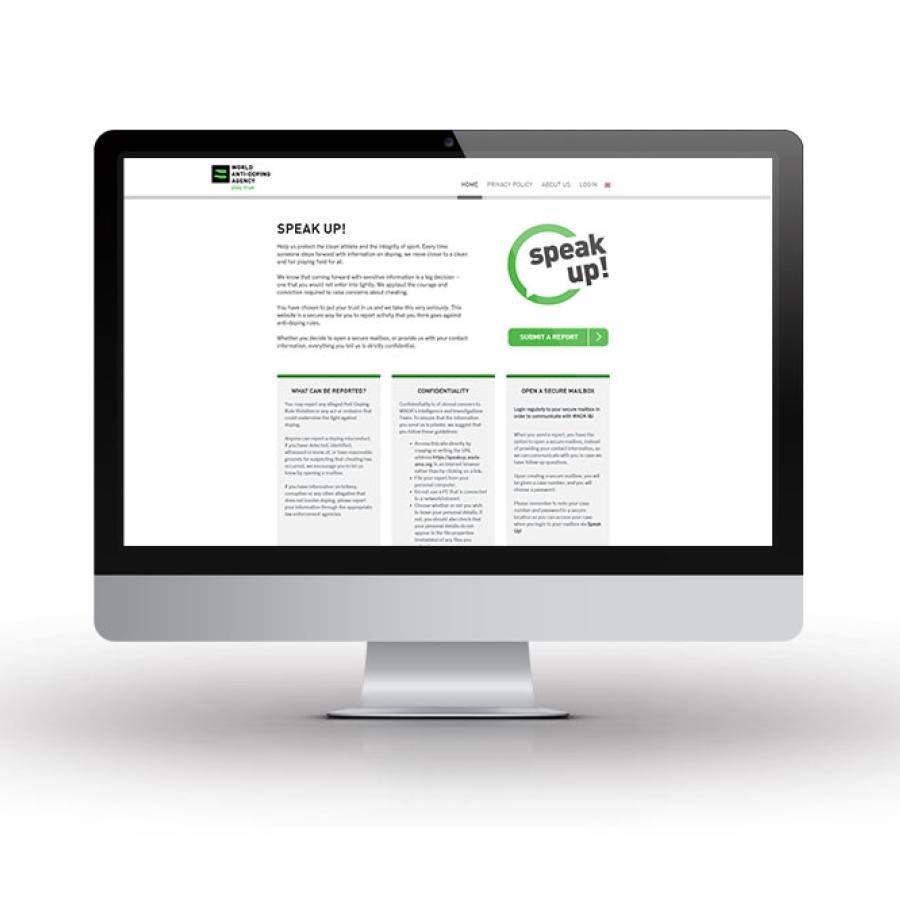 In this latest edition of 'Spotlight', which aims to inform stakeholders of the daily activities being carried out around the globe by the World Anti-Doping Agency (WADA) team and its partners, we look at the role of whistleblowers in anti-doping and how the Agency's independent Intelligence and Investigations (I&I) Department ensures that information provided by informants is used confidentially, responsibly and with optimum impact. Previous 'Spotlight' features are available on WADA's website.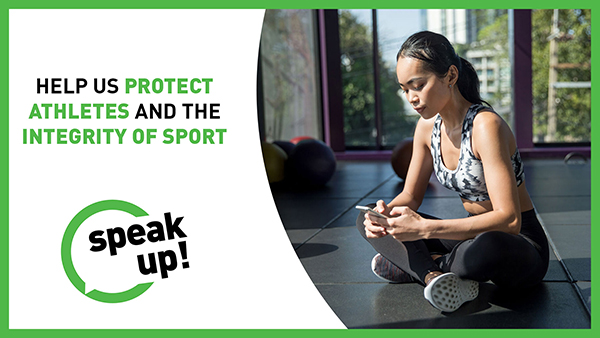 Whistleblowers can make history. Whether it is in the world of organized crime, political corruption or doping in sport, nothing is more likely to yield results for investigations and strike fear into the hearts of perpetrators than when a credible informant with hard evidence makes the decision to do what is right and assist the authorities.
 
In late 2014, two whistleblowers working with German television station ARD blew the lid off perhaps the biggest sports scandal in history – the institutionalized doping scheme in Russia. The whistleblowers in question – Vitaly and Yuliya Stepanov – had been in contact with WADA for some time previously and, due to limits on the extent of WADA's authority at the time, the Agency was unable to act and instead brokered their meeting with ARD TV.
 
One of the effects that the resultant Russian doping crisis had was that it made it abundantly clear to WADA's stakeholders that the Agency needed to be given the powers and resources to investigate. Since those powers were granted under a revised version of the World Anti-Doping Code in January 2015, WADA has been at the forefront of investigations and intelligence-gathering for the good of athletes and clean sport globally. Every single investigation that has been successfully completed by WADA's independent I&I Department in those subsequent nearly six years has been dependent, to some extent, on the information provided by brave whistleblowers in positions to see and hear things not intended for public consumption.
 
WADA I&I Director, Gunter Younger, said: "For me, the real heroes of anti-doping are the whistleblowers who come forward, sometimes risking their careers, friendships or even their own personal safety, for the sake of sport. They are very courageous people and we are extremely grateful to those who contact us. It is therefore WADA I&I's responsibility to reassure them, guide them, embolden them and protect them throughout the process. While some whistleblowers choose to go public through the media, the vast majority choose not to have their identities divulged and they continue on with their lives unchanged while also exposing wrongdoing. In the latter case, we are their voice and we will never reveal who they are."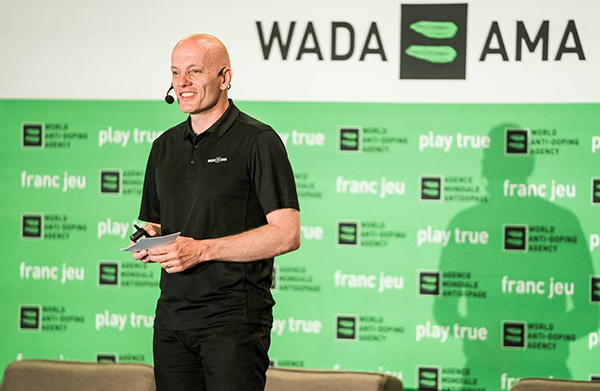 WADA Director of Intelligence & Investigations, Gunter Younger 
In 2017, WADA launched 'Speak Up!', a secure digital platform intended for athletes and others to pass on information about alleged Anti-Doping Rule Violations (ADRVs) and non-compliance by Anti-Doping Organizations (ADOs) under the World Anti-Doping Code (Code), or any act or omission that could undermine the fight against doping in sport. Operating from a secure platform via a website and mobile phone app, and only available to a few authorized employees of WADA I&I, 'Speak Up!' has been remarkably successful in bringing wrongdoing to light, with around 150 tips being received each year. Out of that, hundreds of intelligence disclosures have been actioned by WADA I&I. These range from allegations against individual athletes or support personnel, to complex cases involving systemic anti-doping mismanagement, non-compliance and/or corruption. 
WADA's success in attracting whistleblowers led to the creation in 2018 of the Confidential Information Unit (CIU), which has enhanced WADA I&I's capabilities in two priority areas, namely the collection of anti-doping intelligence and the management of confidential sources.
 
The CIU is currently staffed by three dedicated, multi-lingual Confidential Information Managers (CIMs) – two based at WADA's Montreal headquarters and one at the Agency's European office in Lausanne – all with extensive experience and training in handling whistleblowers and intelligence collection.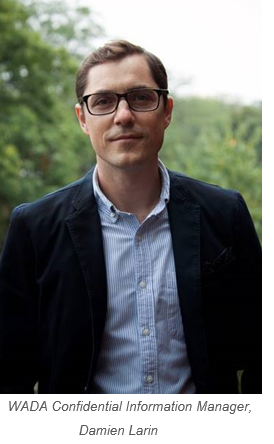 One such CIM is Damien Larin. He stressed the importance of confidentiality, saying: "We value source security above all things. It is the foundation stone that governs all of our actions. Protecting the identity of our sources is essential for our long-term success. There is a shield of anonymity protecting the whistleblowers so that even the investigators from our department, which operates independently from the rest of WADA, do not know who they are. Mutual trust and confidence are crucial in this area and we in the CIU define our work by building collaborative relationships with our sources – relationships that are built on two-way communication. It is our responsibility to safely manage these complex relationships, while ensuring they produce actionable intelligence in the protection of clean sport."
Information is only as valuable as its accuracy. To this end, once contact has been established with a source, the CIU carries out a rigorous vetting process, which includes assessing that person's motivations and credibility. The team must weigh up the impact the source's information will have for clean sport against the risks being faced by the individual. Ultimately, the CIU will continue with a source relationship only if both parties agree and adequate protections are in place.
 
In addition to its source management role, the CIU operates as WADA's de facto intelligence unit. The CIU collects, registers, assesses, and distributes all anti-doping intelligence on behalf of WADA, regularly passing on actionable intelligence to International Federations, National Anti-Doping Organizations and law enforcement agencies, including INTERPOL. In the event that information is passed on, the CIU runs a parallel follow-up program to ensure the intelligence is actioned by those bodies, which, in case an Anti-Doping Organization (ADO) does not follow up properly, can lead to compliance consequences for the ADO. 
 
WADA I&I is continuing to grow. Last month, the Agency announced that it was strengthening the department even further by adding a section dedicated to investigating non-compliance by Signatories, with a Compliance Investigator, a CIM and an Intelligence Analyst shortly coming on board in a move that will boost the I&I team up to 15 staff. Around one quarter of all allegations WADA I&I receives through 'Speak Up!' relates to Code compliance by Signatories and, up to now, it simply had not been possible to investigate all the allegations fully due to limited resources. This new section aims to make a real difference in WADA's compliance monitoring activities.
 
While WADA has put in place an extremely robust structure and process for the management of whistleblowers, ultimately, the success of the program depends entirely on sources having the courage to come forward with their information. On this, Gunter Younger is unequivocal as to where his team's and WADA's priorities lie.
 
He said: "We put the whistleblower at the center. When they come to us, they are no longer alone. We not only listen to them but also support them throughout an investigation. This is the function of the CIU – it deals with informants and whistleblowers, separate from investigations. If you have knowledge about any doping activities and you are not sure what to do or who to talk to, then we are here for you. Before you decide whether you want to share the information that you possess, listen to what we can do for you and then, if you are not entirely comfortable, you can just stop the conversation with no more questions asked. When you choose to 'Speak Up!', you are in control of the process."