Releases
WADA and Canadian authorities celebrate extended hosting agreement until 2031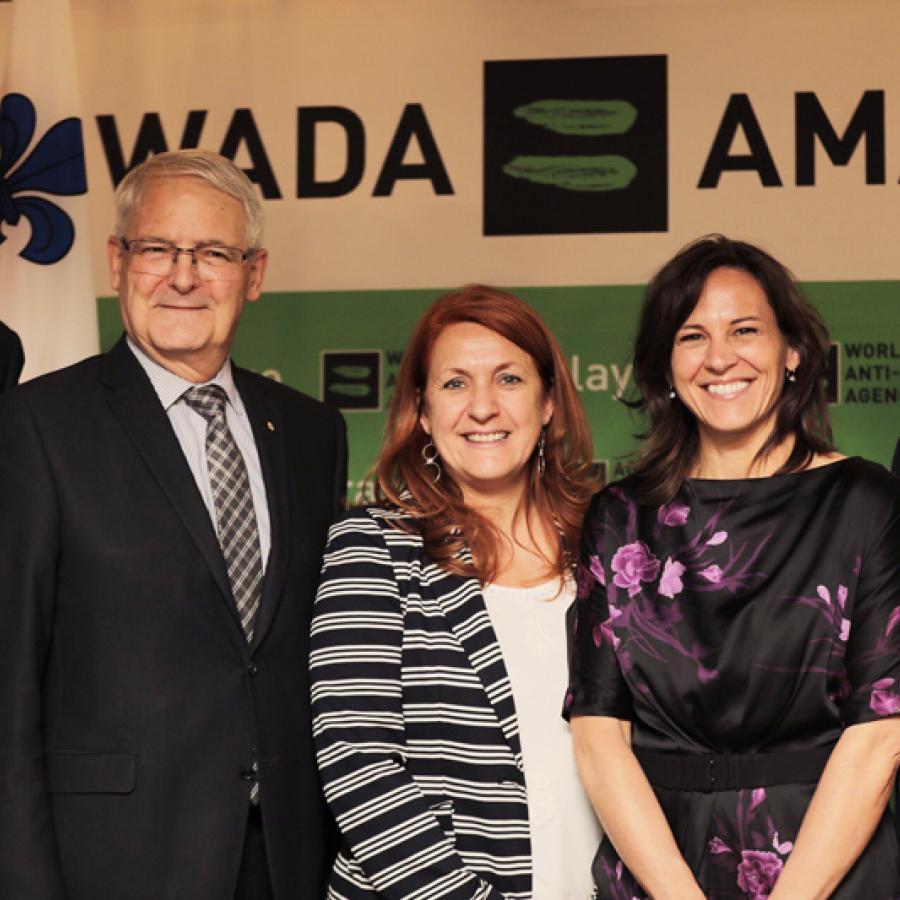 The World Anti-Doping Agency (WADA) and Montréal International (MI) today celebrated the formal hosting agreement extending and expanding the presence of the international organization's headquarters in Montreal, Canada, until the end of 2031 at least. WADA will continue to strengthen its presence in the city, having already increased its total workforce more than tenfold since first setting up in Canada in 2002.
The agreement was signed in September 2018 by WADA President Sir Craig Reedie, WADA Director General Olivier Niggli and MI President and CEO Hubert Bolduc. Today, an official celebration took place in Montreal, with the participation of Canada's Minister for Transport, the Honorable Marc Garneau, the Quebec Minister of Education and Minister Responsible for the Status of Women, Isabelle Charest, and the Advisor to the Montreal Executive Committee, Suzie Miron, representing the Mayor of Montreal, Valérie Plante.
Sir Craig said: "WADA is very pleased with this clear commitment of long-term support from the Governments of Canada, Quebec and the City of Montreal, through their partnership with Montréal International. Montreal has proved to be a successful headquarters location for us and we are happy to continue it for at least another 10 years beyond 2021. Our staff members, who are a truly international group, coming from more than 40 different countries in every corner of the world, enjoy Montreal's unique characteristics as a bilingual, cosmopolitan, welcoming and dynamic place to work and to live, boasting several prestigious universities and a highly skilled workforce."
Mr. Garneau said: "Canada is a long-standing partner of clean sport and recognizes the importance of the fight against doping and the protection of clean athletes. Our Government is proud that WADA chose to extend its stay in Montreal, a vibrant and welcoming city, until 2031. The expansion of WADA's headquarters will bring even more visibility and economic benefits to Canada."
Ms. Charest said: "The Government of Quebec is very pleased with the decision of the members of WADA's Foundation Board, who have once again chosen to continue their partnership with Montréal International. The extension of the hosting agreement of WADA's headquarters in Quebec's metropolis testifies to the will of our Government to participate in the promotion and coordination of the fight against doping in sport."
On behalf of Ms. Plante, Ms. Miron said: "I am thrilled to see our partnership with WADA renewed. Montreal's quality of life is renowned across North America, and the presence of international organizations' headquarters is a major asset for our city as it generates positive impacts on investments and job creation."
President and CEO of MI Hubert Bolduc said: "International organizations (IOs) are strategic for Montreal as it boasts the third largest IO community in North America, right after New York City and Washington DC; it is crucial that we support them so that they can continue to set up and grow in our city. The presence of a flagship organization like the World Anti-Doping Agency helps significantly to strengthen the international dimension and prestige of Montreal, in addition to enhancing its leadership in the fight against doping."
MI led the preparation of Montreal's bid for the WADA headquarters back in 2000-01, with the collaboration of the Governments of Canada and Québec. Montreal put forward a very strong case for hosting WADA's headquarters, building on its reputation as an Olympic city as well as a preferred location for international organizations. WADA established and inaugurated its Montreal headquarters in early 2002. Since then, WADA's full-time staff in Montreal has grown from 12 to its current number of 125.
About WADA
The World Anti-Doping Agency (WADA) is the international independent organization created in 1999 to promote, coordinate and monitor the fight against doping in sport in all its forms. The Agency is composed and funded equally by the sports movement and governments of the world. Its key activities include scientific research, education, development of anti-doping capacities and monitoring of the World Anti-Doping Code - the document harmonizing regulations regarding anti-doping in all sports and all countries.
About Montréal International
Montréal International is a non-profit organization funded by the private sector, the governments of Canada and Québec, the Communauté métropolitaine de Montréal and the City of Montréal. Its mandate is to attract and retain foreign investment (companies and startups), international organizations, skilled workers and international students to Greater Montreal by providing support services tailored to their needs.
Media Contacts
World Anti-Doping Agency:
James Fitzgerald
Senior Manager, Media Relations and Communications
Phone: + 1-514-904-8225
E-mail: media@wada-ama.org
Maggie Durand
Manager, Media Relations and Communications
Phone: + 1-514-904-8225
E-mail: media@wada-ama.org
Montréal International:
Julie Brunet
Advisor, Communications – Public Affairs and Press Relations
Phone: + 1-514-987-9327
E-mail: julie.brunet@mtlintl.com